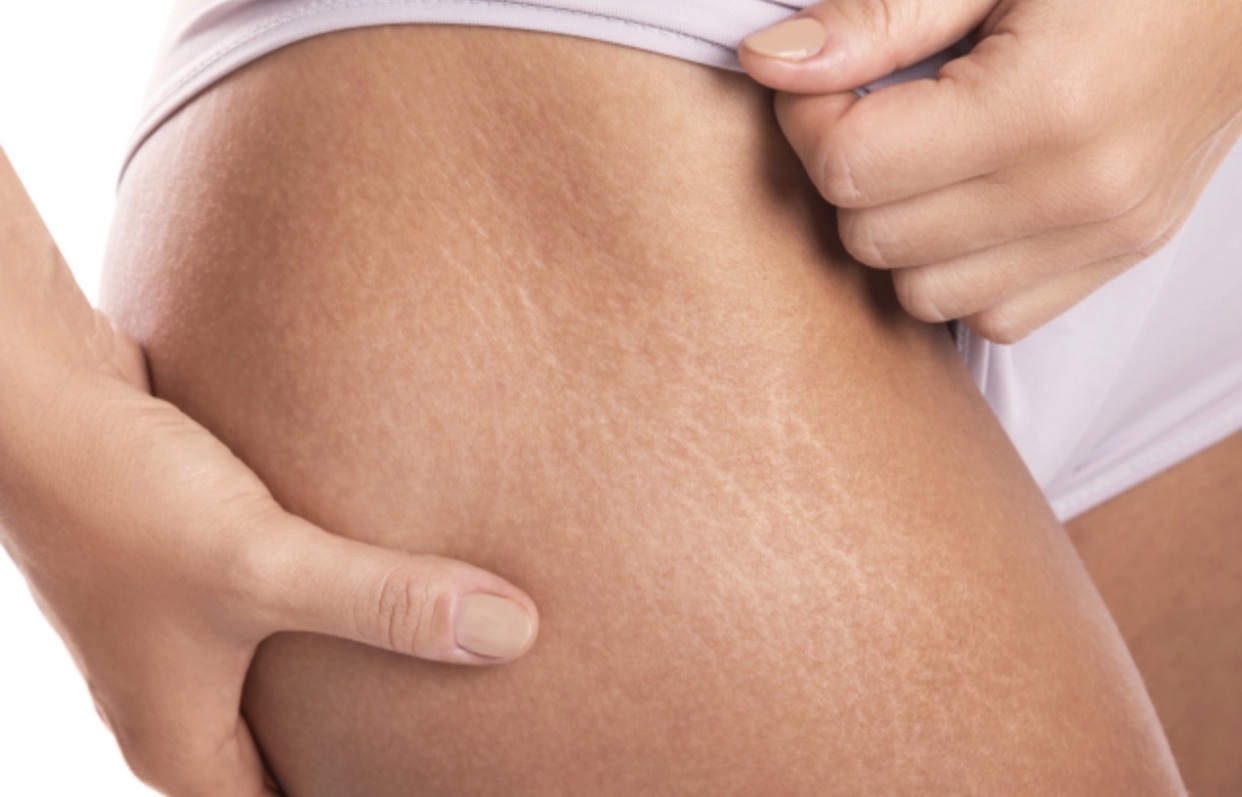 Health & Beauty Hub
How To Deal With Stretch Marks & Scars
The skin maybe our most underestimated organ when it comes to looking at health.
A stretch mark is a type of scar that develops when our skin stretches quickly. The change causes the collagen and elastin which support our skin to rupture. As the skin heals, stretch marks may appear. Similar with scarring, which occurs when tissues have been significantly damaged and repaired.
P'URE Papayacare Renew has been carefully formulated with Gotu kola and high-quality herbal extracts and oils, in combination with the nourishing benefits of papaya. These ingredients moisturise and soothe the skin which may help minimize the progression of scars and stretch marks.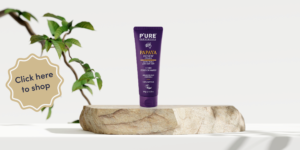 P'URE Papayacare Renew may assist to reduce the appearance of stretch marks and also assists with minimising the scaring post injury or surgery. A Cochrane review of creams for the prevention of stretch marks in pregnancy found a cream containing Gotu kola significantly reduced the incidence of developing stretch marks. The trial included 80 pregnant women and overall, 56% of the placebo group developed stretch marks compared with 34% in the active group.
Gotu kola has a long history of traditional use to promote healing of a variety of skin conditions. Papaya provides nutrients important for wound healing. It is a rich source of vitamins, minerals and enzymes required for laying down new tissue.
P'URE Papayacare Renew contains ingredients that moisturise and keep skin balanced and well hydrated. Jojoba oil, rosehip oil and chamomile extracts have been included to soothe dry, sensitive and irritated skin. Their properties calm and protect skin against the harsh elements.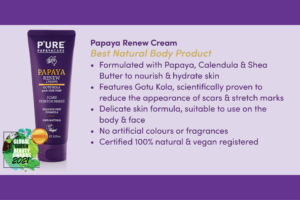 Papaya Renew was the 'Best Natural Body Product' Gold Winner in the Global Green Beauty Awards 2021. Papaya Renew also was 'Mums Best Must Have for New Mums' Gold Winner, 'Mums Best Stretch Mark Product' Silver Winner & 'Mums Best Body Lotion for New Mums' Silver Winner in the Bambini Baby Awards 2021.
Our natural ingredients including Gotu Kola & Papaya work in synergy to help promote elasticity while softening, calming & hydrating sensitive skin. Papaya Renew Cream is recommended for scars, stretch marks & stretch mark prone areas. Can be used on the face & body.
Renew is FREE FROM Mineral Oil.
Bylka W, Znajdek-Awiżeń P, Studzińska-Sroka E, Brzezińska M. Centella asiatica in cosmetology. Advances in Dermatology and Allergology/Postepy Dermatologii I Alergologii. 2013;30(1):46-49. doi:10.5114/pdia.2013.33378.
Widgerow, A., Chait, L., Stals, R. et al. Aesth. Plast. Surg. (2000) 24: 227. https://doi.org/10.1007/s002660010038
Young G, Jewell D, Creams for preventing stretch marks in pregnancy (Review), Cochrane review, The Cochrane Library 2009, Issue 1 http://www. thecochranelibrary.com