News & Announcements
Australian Made P'URE Papayacare Baby Wins 9 Global Awards, Including The Best Natural Baby Brand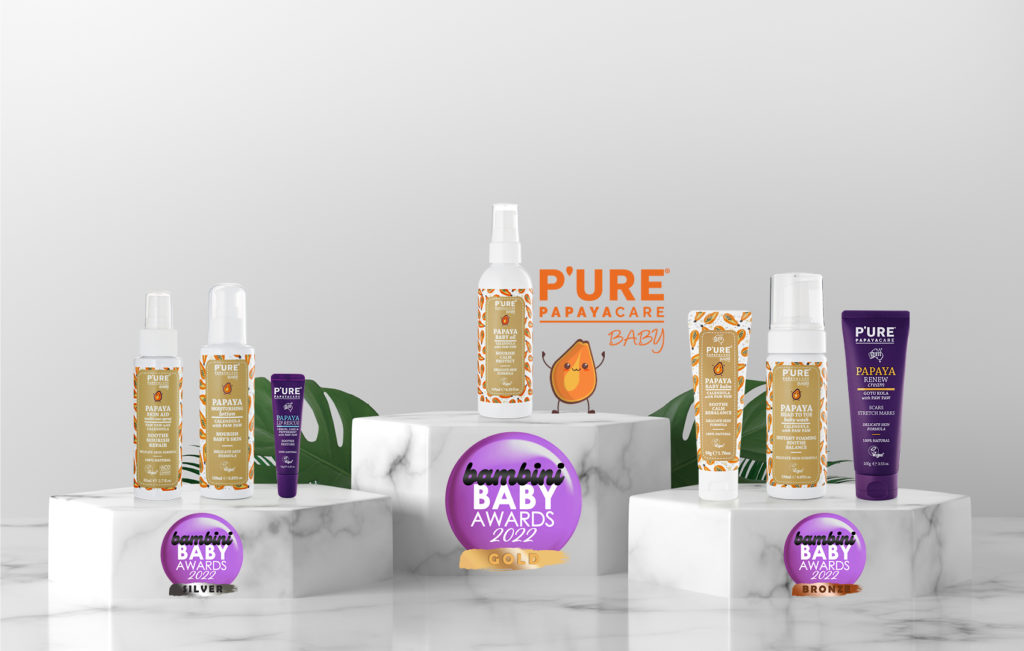 In times where companies are under pressure, G&M Cosmetics has shone across a number of categories in the 2022 Global Bambini Awards, which includes being crowned the Best Natural Baby Brand.
The Bambini Baby Awards celebrates the best skincare and wellbeing products for Baby and New Mum's products and must-haves for parents, carers, and little ones. The products are vigorously assessed by an expert panel so new parents know exactly what to buy for their new little ones.
The Australian Made and Owned company, G&M Cosmetics is celebrating 25 years within the Health & Beauty Skincare industry and winning these awards with one of its newest brands P'URE Papayacare is a great achievement for all. P'URE Papayacare Range is made using natural Papaya fruit, which is rich in unique enzymes to gently cleanse, nourish & hydrate delicate skin. The range is enriched with Calendula flower which is traditionally used for its healing & soothing properties.
The winning awards include – Gold, Silver, and Bronze across multiple categories.
GOLD Awards:
Best Natural Baby Brand: P'URE Papayacare Baby
Best Baby Oil: P'URE Papayacare Baby Oil
Best Baby Travel Product: P'URE Papayacare Baby Mini Travel Set
SILVER Awards:
Best Baby Product for Sensitive Skin: P'URE Papayaycare baby Skin Aid Spray
Best Natural Lip Balm: P'URE Papayacare Lip Rescue
Best Baby Lotion / Cream: P'URE Papayacare Baby Lotion
BRONZE Awards:
Best Baby Balm: P'URE Papayacare Baby Balm 25g
Best Baby Body Wash: P'URE Papayacare Baby Head to Toe baby Wash
Best Stretch Mark Product: P'URE Papayaycare Baby Renew
Mr Zvonko Jordanov, the Managing Director and Founder proudly mentions "Winning these award's is a wonderful way to celebrate the companies 25-year journey. The team are enthusiastic about ensuring everything we create is at a high standard and stands behind the company's ethos and values." P'URE Papayacare by G&M Cosmetics is Australian Made, Vegan Registered, Certified ACO COSMOS Natural, Petroleum Free, Contains No Artificial Fragrances and Cruelty Free.