News & Announcements
P'URE Papayacare Baby Wins 9 Awards at 2021 Bambini Baby Awards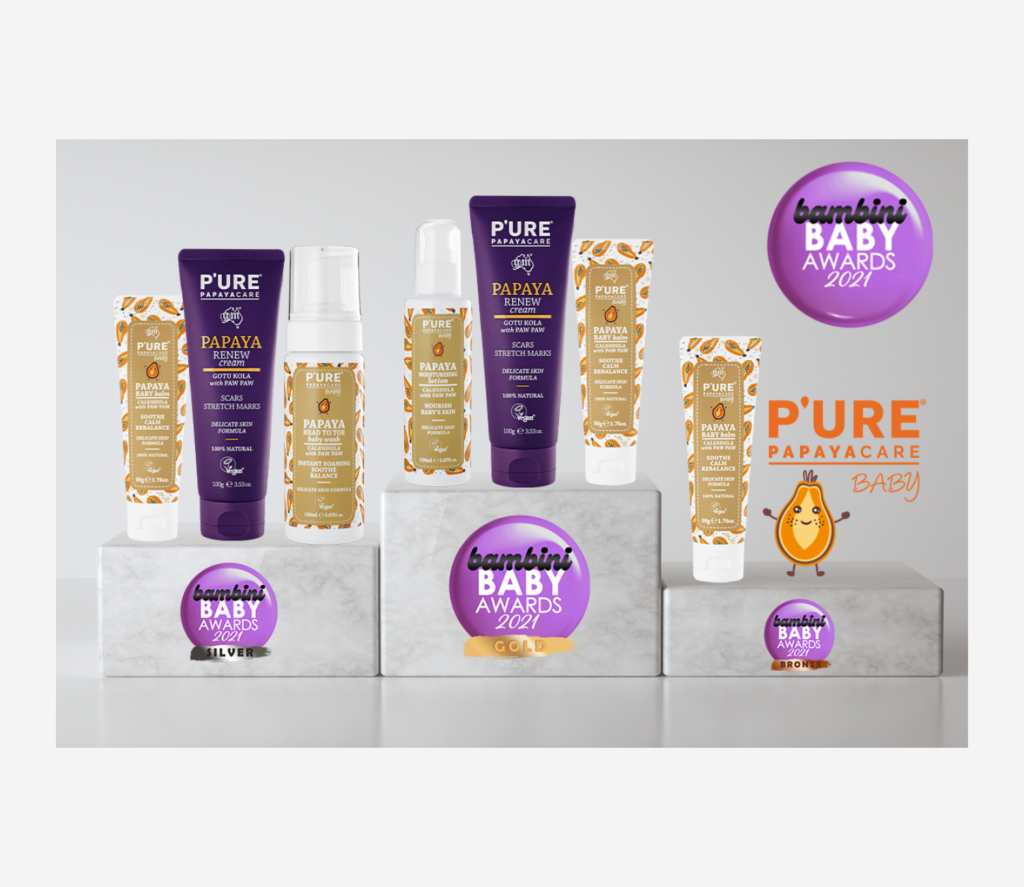 Australian Vegan baby skincare brand wins 9 awards
From the high number of elite Global baby brands submitted to the recent Bambini Baby Awards 2021, one brand has captured the attention of an expert panel of judges as this year's Best Must-have's for New Mums, that brand is P'URE Papayacare by G&M Cosmetics. The Bambini Baby Awards celebrates the best of launches for skincare and wellbeing products for babies, toddlers and of course new mums. The products are vigorously tested by a panel so new parents know exactly what to buy for their new little ones.  
The 100% Australian Made and Owned company, G&M Cosmetics developed a complete baby skincare treatment that is Vegan Registered, Certified Natural and most importantly safe for the entire family. P'URE Papayacare Range is made using natural Papaya fruit which is rich in unique enzymes to gently cleanse, nourish & hydrate delicate skin. The range is enriched with Calendula flower which is traditionally used for its healing & soothing properties. P'URE Papayacare source only the finest natural ingredients including their signature sustainable Papaya whole fruit, made using the flesh, skin & seeds.
The accolades include – Gold, Silver and Bronze Awards across multiple categories
GOLD Awards:
SILVER Awards:
BRONZE Awards:
Mr Zvonko Jordanov, the Founder mentions "The team at G&M Cosmetics have put in endless time into creating a brand we truly believe in, winning these award's is a wonderful way to cap off the journey which started with an idea and ended with a brand that Mums, Dads and Babies can enjoy world-wide.."
P'URE Papayacare by G&M Cosmetics is Australian Made, Vegan Registered, Certified ACO COSMOS Natural, Petroleum Free, Contains No Artificial Fragrances and Cruelty Free.  
For more information on Bambini Baby Awards 2021, visit  https://www.bambinibabyawards.com/2021-winners.html#/
For the official press release, click here.