Health & Beauty Hub
The Kakadu Plum Collection: Beginner Friendly Anti-Aging Skincare Routine
Taking care of your skin can be hard. Everywhere you look, there are different suggestions and guides, all full of long scientific words and complicated routines that can quickly get away from you. Kakadu Plum Collection is a new skin routine, rich in natural minerals and ingredients, that is easy to use and gentle on your skin. If you are after a new skincare routine, whether you are just starting out or wanting a change, the Kakadu Plum Collection might just be for you.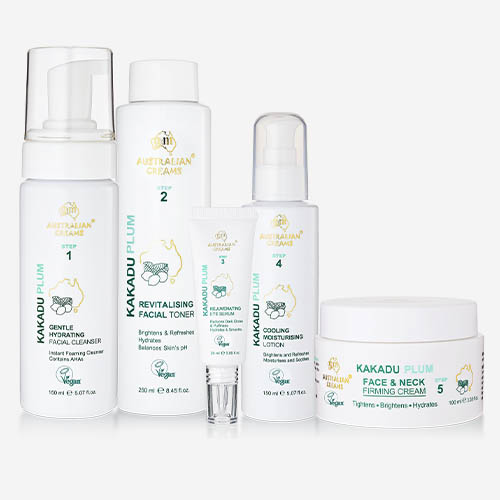 The Kakadu Plum Collection, as stated in the name, is an Australian made and owned company. This range is vegan registered, and naturally high in natural vitamin C through its use Kakadu Plum, the world's richest source of vitamin C, containing about 62 times the natural vitamin C per 100g than oranges. This range also features hyaluronic acid for skin firming, and other natural ingredients to promote skin healthiness. This is a complete skincare regime with a gentle formula for everyday use, developed to make your skin brighter, healthier, and to delay the signs of aging. This entire range is free from harsh chemicals such as parabens, petrochemicals, formaldehydes, sulphates, phthalates, and artificial colours.
The Kakadu Plum Collection is a complete skincare range!
Kakadu Plum Gentle Hydrating Facial Cleanser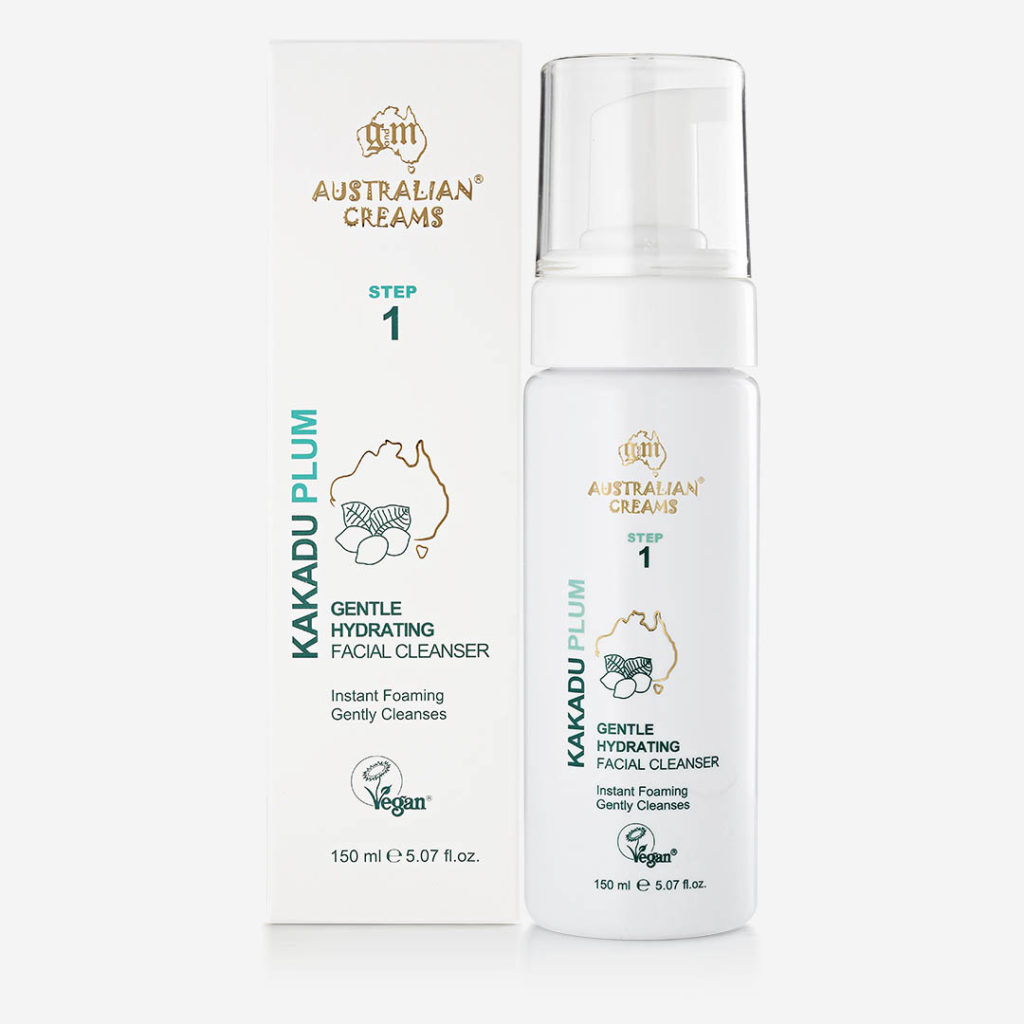 Gentle Hydrating Facial Cleanser. This cleanser is instant foaming and designed to cleanse and refresh without affecting the skin's natural oil balance so that your skin does not become dry and exposed. The natural ingredients in this cleanser not only keep your skin balanced but can also help renew skin cells for skin firmness and reduce the appearance of fine lines and wrinkles. This is followed by the Revitalising Facial Toner.
Kakadu Plum Revitalising Facial Toner 
Kakadu Plum Revitalizing Facial Toner is the second step of the facial regime, formulated to help remove excess make-up and dirt and to stimulate healthy skin cell regeneration. Natural vitamin C is a fantastic natural antioxidant that enhances your skin's brightness and boosts skin's collagen production to promote firmer & younger-looking skin. Gently cleaning your skin with this toner on a cotton pad is one of the first steps, as it clears and prepares your skin for the remaining steps. This is followed by the Rejuvenating Eye Serum.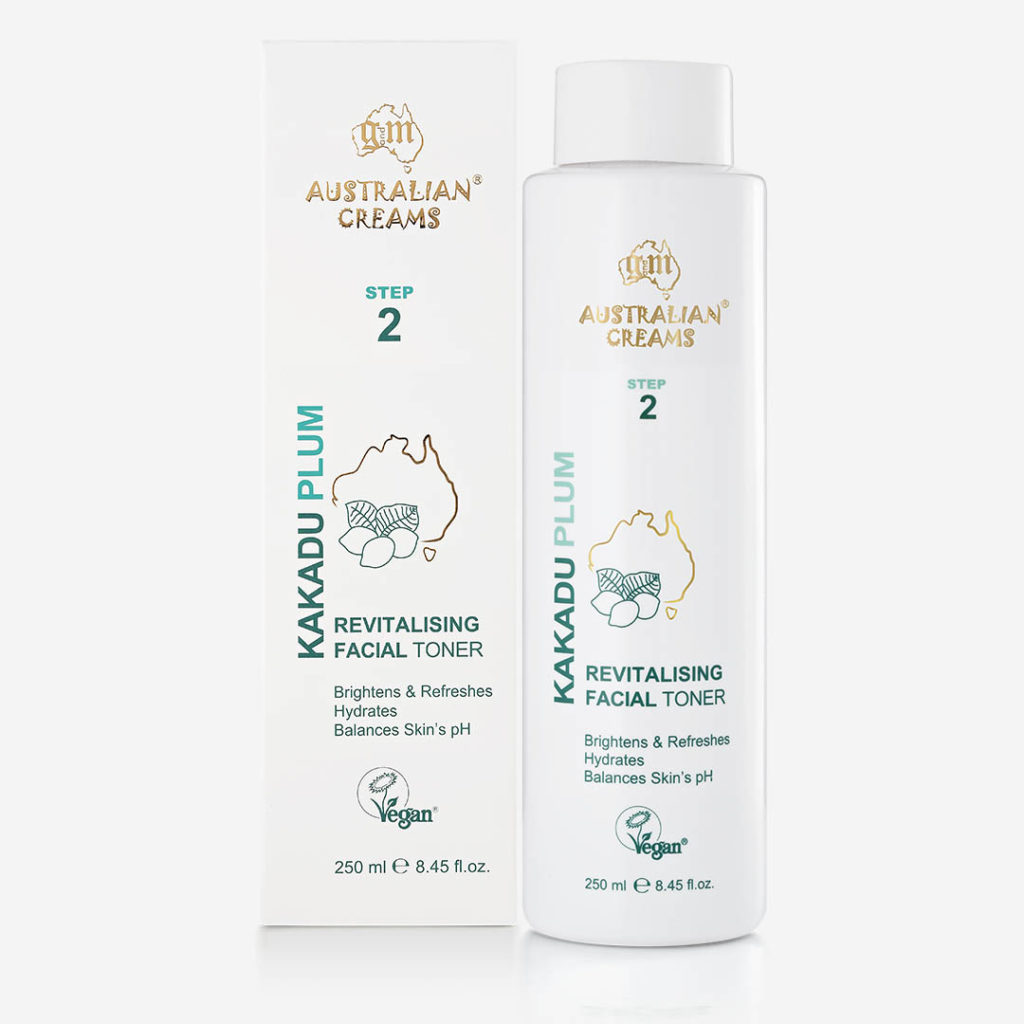 Kakadu Plum Rejuvenating Eye Serum
The eye serum, as the name suggests, is applied lightly under the eyes to help reduce dark circles and puffiness, gently hydrating the delicate eye area and aiding in the reduction of fine lines. This serum is also 1% Hyaluronic acid, further promoting the smoothing of fine lines and wrinkles, and rich in antioxidants to protect from damage. In the morning we recommending following with the Cooling Moisturising Lotion in the morning and following with Face & Neck Firming Cream in the evening.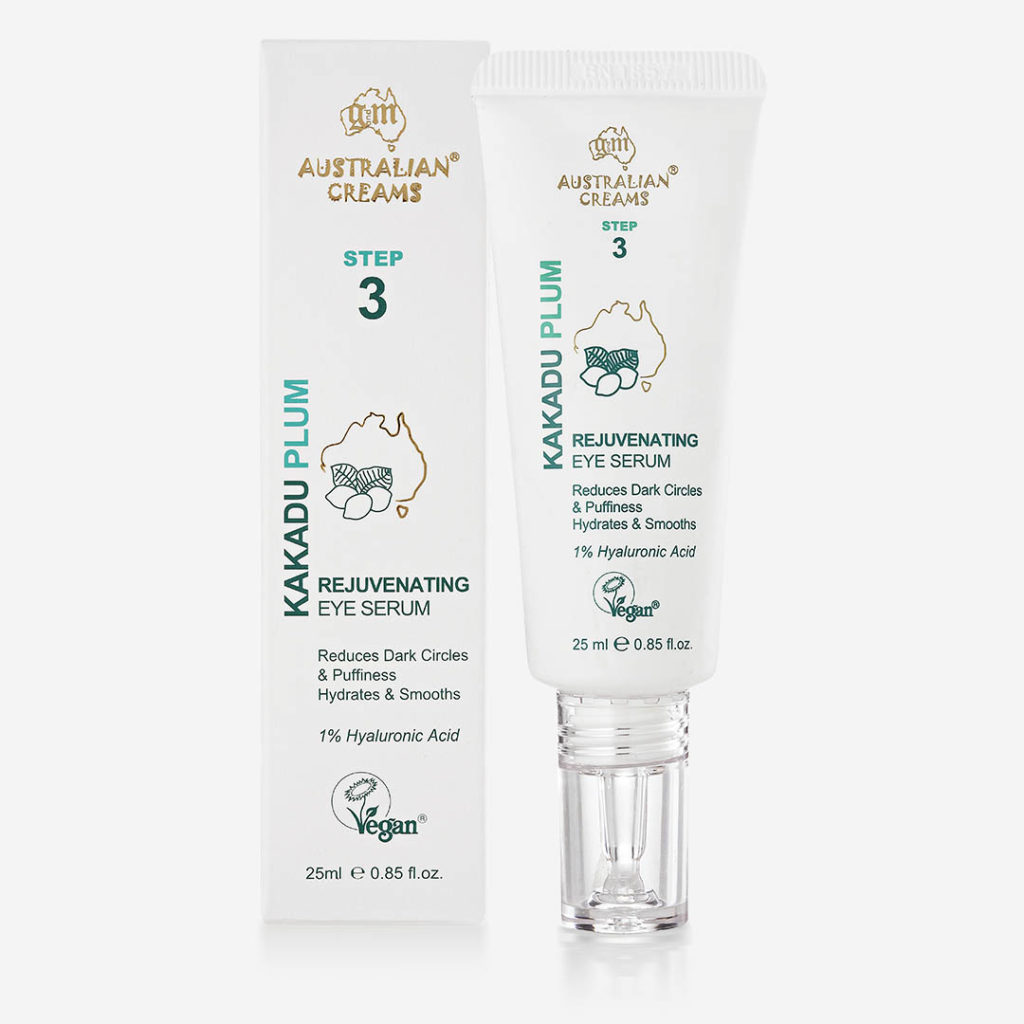 Kakadu Plum Cooling Moisturising Lotion 
The Cooling Moisturizing Facial Lotion is the next step, and it does what it says on the bottle. This moisturising lotion to lock moisture into your skin, prevent dryness and soothe skin through its cooling effect. The cooling moisturising lotion also contains glycerine and sweet almond oil has dual moisturising properties that further enhances the velvet-soft skin feel that this range creates.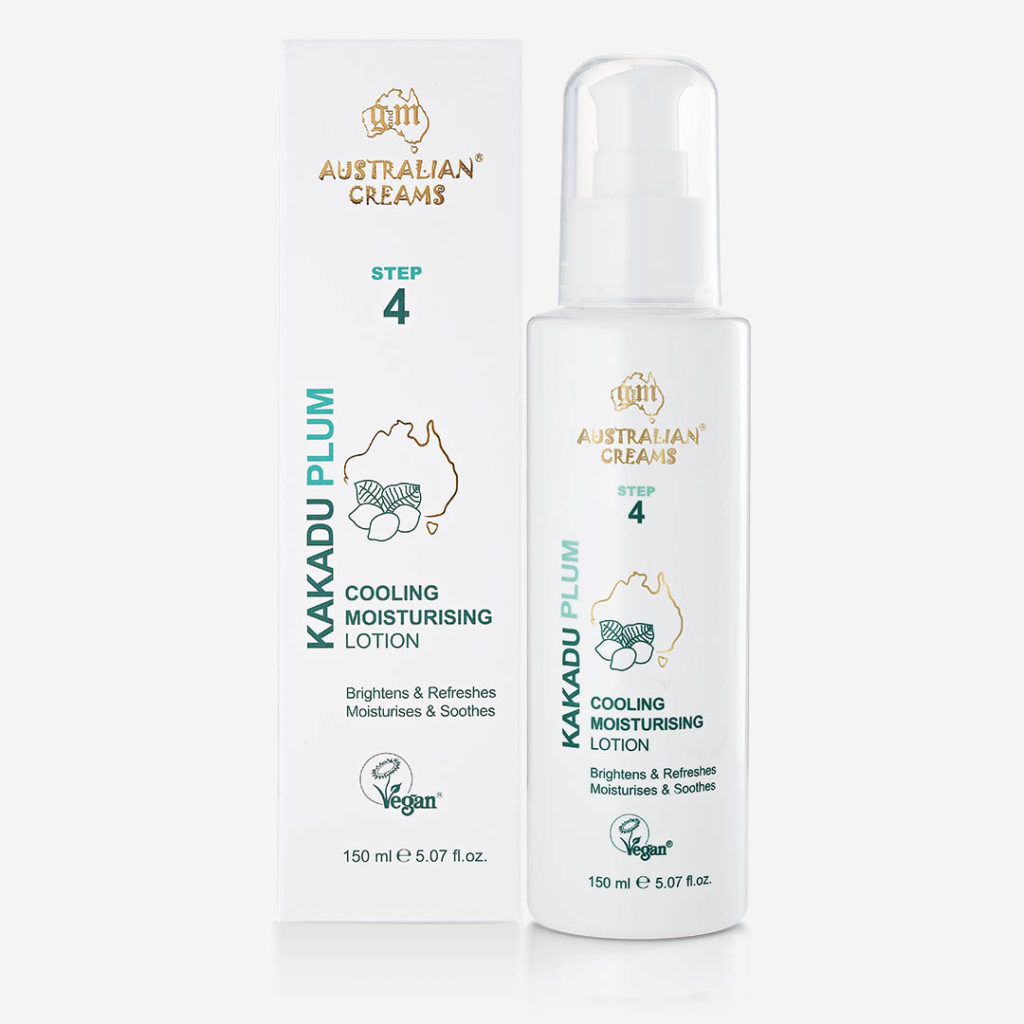 Kakadu Plum Face & Neck Firming Cream
We then move on to Step 5: The Face and Neck Firming Cream. This cream is specially formulated to increase collagen and elastin production, tightening your skin and helping your skin to appear bright, firmer and younger. This product not only has high concentrations of natural vitamin C from the Kakadu plums but also has hyaluronic acid and natural allantoin to hydrate and regenerate your skin, repairing and protecting from damage and reducing the appearance of fine lines. Overall, this rich blend of natural plant extracts helps to improve your skin's elasticity and suppleness.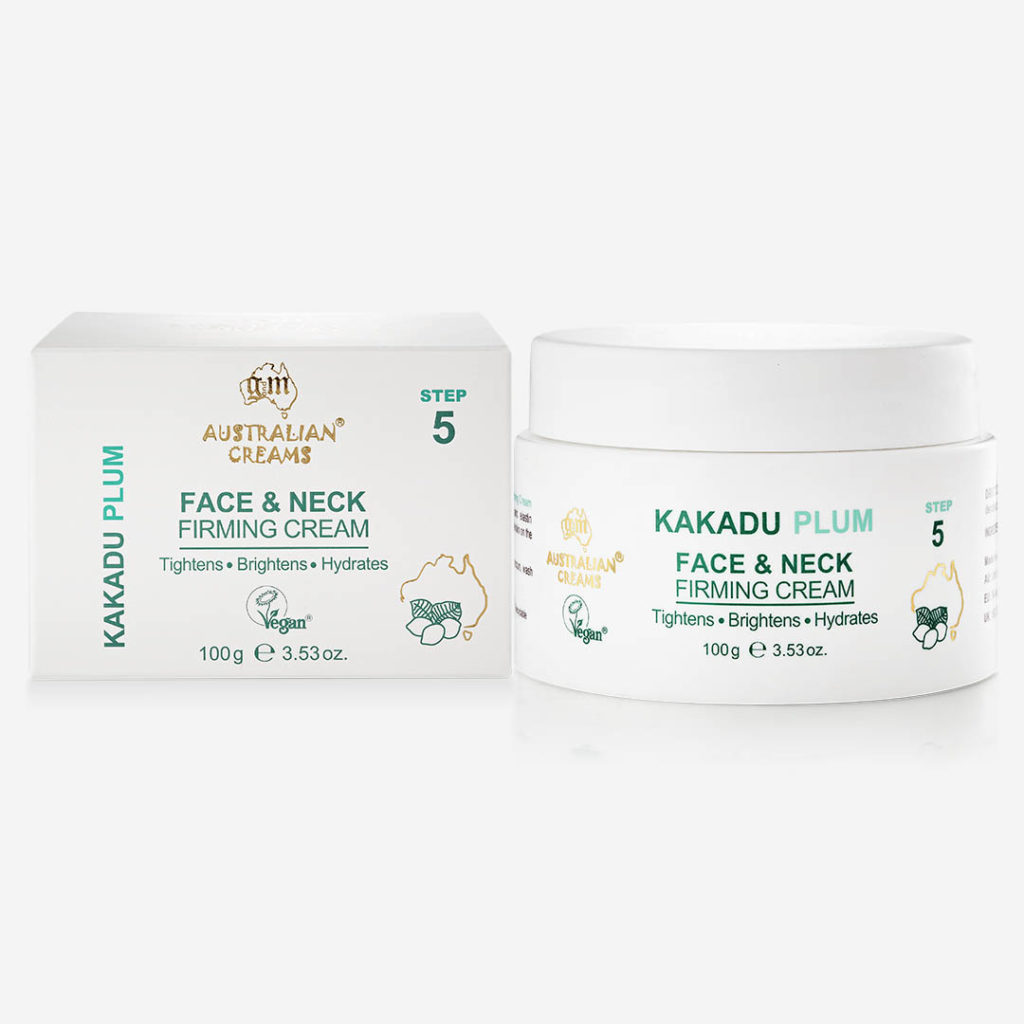 The Kakadu Plum Collection is a great skincare choice if you want something complete, gentle, and natural. This range focuses on keeping your skin healthy, clean and firm, all with natural and vegan ingredients, meaning there is something that appeals to everyone.

Written by Miranda