News & Announcements
G&M COSMETICS WINS LUX GLOBAL EXCELLENCE AWARD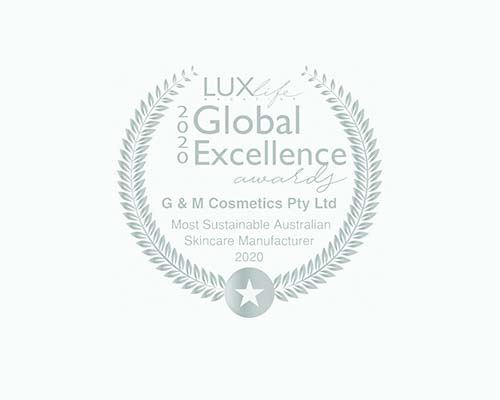 G&M Cosmetics has been awarded the LUX Life Magazine Global Excellence Award for Most Sustainable Australian Skincare Manufacturer 2020.
This prestigious award recognises that G&M Cosmetics has demonstrated excellence and dedication, even in the face of uncertainty throughout 2020, to our commitment for manufacturing sustainable products.
The LUX Global Excellence Awards serve as recognition of an organisations' extensive expertise within a given field or discipline, dedication to customer service and client satisfaction with an ongoing commitment to excellence and innovation, within their chosen sector and market on a global or local basis. G&M Cosmetics has developed an Environmental Impact Mission Statement which clarifies our detailed vision and corporate goals of working to be more sustainable, and environmentally responsible. Winning Most Sustainable Australian Skincare Manufacturer 2020 honours these noble efforts.
LUX-Life Magazine is renowned for fair and analytical comment towards some of the world's most luxurious markets, businesses and service providers. It strives to delve deep into the world of lavished luxury with the aim of presenting to its readers a comprehensive and honest representation of the very best that the international global luxury lifestyle has to offer.
Key points from our Environmental Impact Mission Statement include:
Minimising transport emissions with majority of freight transported via sea and running our complete operation from one site
Installing solar power and investing in energy efficient manufacturing equipment, already reducing our energy usage by 95%
Recyclable packaging across all G&M brands
Member of Australian Packaging Covenant
Vegan Registered skin care products – P'URE Papayacare and Australian Creams Kakadu Plum Collection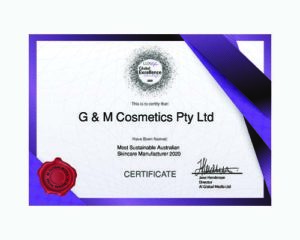 Media Enquires: Beck De Castro – G&M Cosmetics Global Marketing & Sales Manager
Email: RDeCastro@gandmcosmetics.com.au  Mobile: +61 0404 383 724